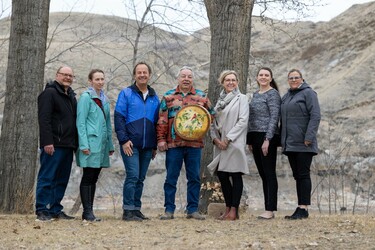 Attention: Drumheller Residents
The tree removal process has commenced to make room for upcoming Flood Mitigation Project work. 
While the Town of Drumheller makes every effort to avoid impacting trees, sometimes the nature of capital projects requires that some trees are removed to make space for project work.
When trees are impacted in flood mitigation project areas, a landscape plan is developed to restore the ecological health of the area. The health of the trees have been assessed, and any trees in good or fair health will be replaced at a ratio of 5:1 – 5 replacements for every 1 removal. The replacements may be trees or shrubs or a combination of trees and shrubs.
Furthermore, biologists conducted sweeps of the areas for owls nests, animal dens, and other sensitive wildlife before the tree removal took place, as the protection of the environment is of high importance to the Drumheller Resiliency and Flood Mitigation Office.
Elm trees will be disposed of in the landfill to mitigate the transfer of Dutch Elm Disease to other trees.
Some of the trees removed will be repurposed through a project initiated by a group of residents and Mayor Colberg. Artists will be sought for creating carvings, benches, handrails, and natural playgrounds for the Town to honour and appreciate the life and legacy of the trees. To learn more about this project, watch this video.
If you'd like to submit feedback regarding how you would like to see our trees repurposed, or if you or someone you know would like to volunteer, please fill out this survey.
Additionally, Elder John conducted an Indigenous blessing of the trees on April 8th. In attendance at the blessing was Mayor Colberg, Council Members, CAO, and Flood Mitigation Project Director, Deighen Blakely.
- Town of Drumheller Flood Mitigation Office