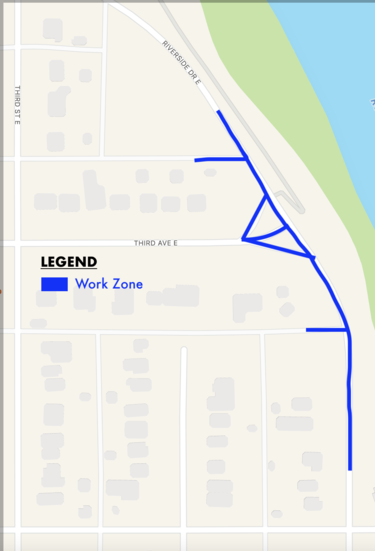 Project Details:
Location: Work will occur along Riverside Drive and 5 St E
Dates: Beginning on August 8, 2022
Duration: Expected to be complete by mid-September
What's happening?
This summer, ATCO and Shaw will be moving an existing overhead power line underground along Riverside Drive and 5 St E. 
What to Expect:
Crews will make every effort to minimize the effect their work has on daily activities, and will follow all applicable standards and bylaws. All work will be completed within the road alignment and there will be no need to enter any private properties. Below are the things to be aware of related to this project.
Phase 1 - Site assessment, surveying, and utility locating *COMPLETE*
Phase 2: Starting August 8, 2022 
ATCO is anticipated to begin work on August 8 and will finish their work by the end of August. During this phase, one lane will be closed periodically at different locations along the alignment and there may be some interference with the pathway along Riverside Drive. 
Phase 3: September 2022
Shaw is expected to begin work in September and will take approximately two (2) weeks. During this phase, the road will remain open but road shoulders may be closed periodically to perform hydrovacing work.
We understand that this work may create some inconveniences, and we thank you in advance for your understanding and cooperation.
We're here to help
If you have any questions about this project, please contact the Flood Office directly:
E: floodreadiness@drumheller.ca
P: 403-823-4878
For your safety, as well as the safety of crews and team members, please do not approach the work site with questions or concerns.